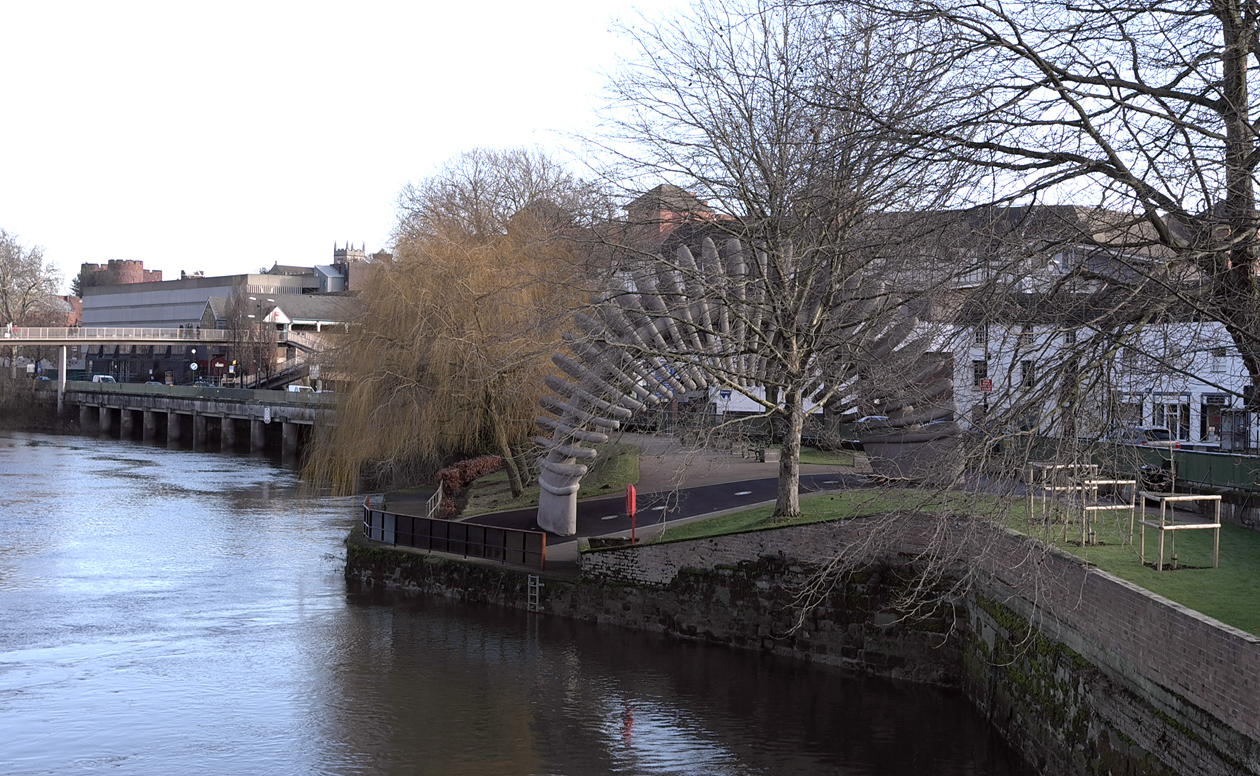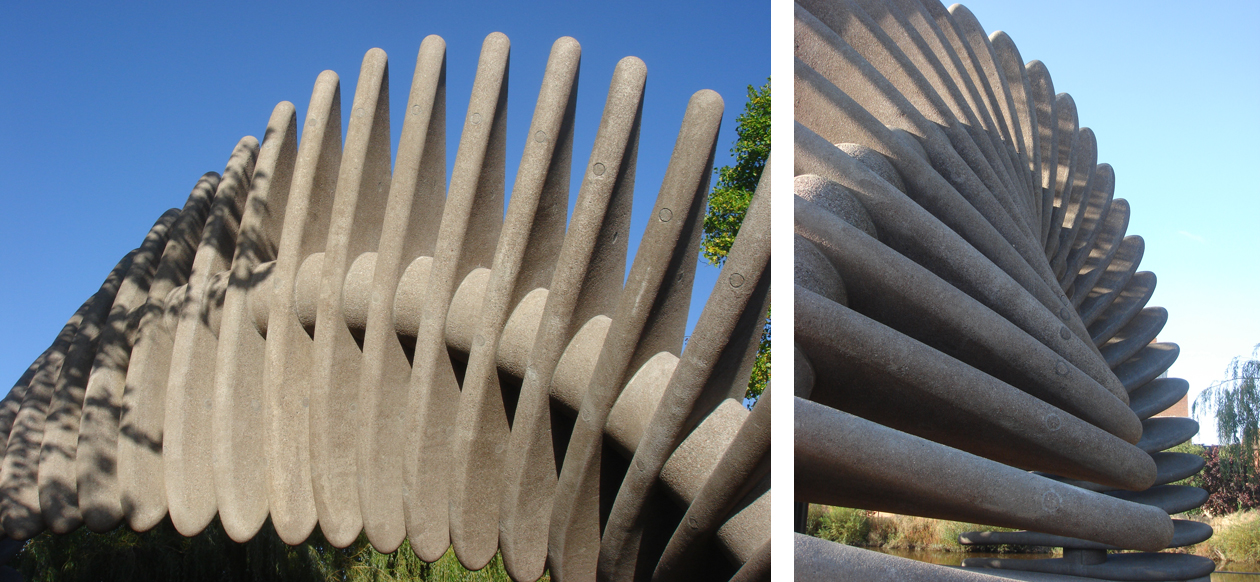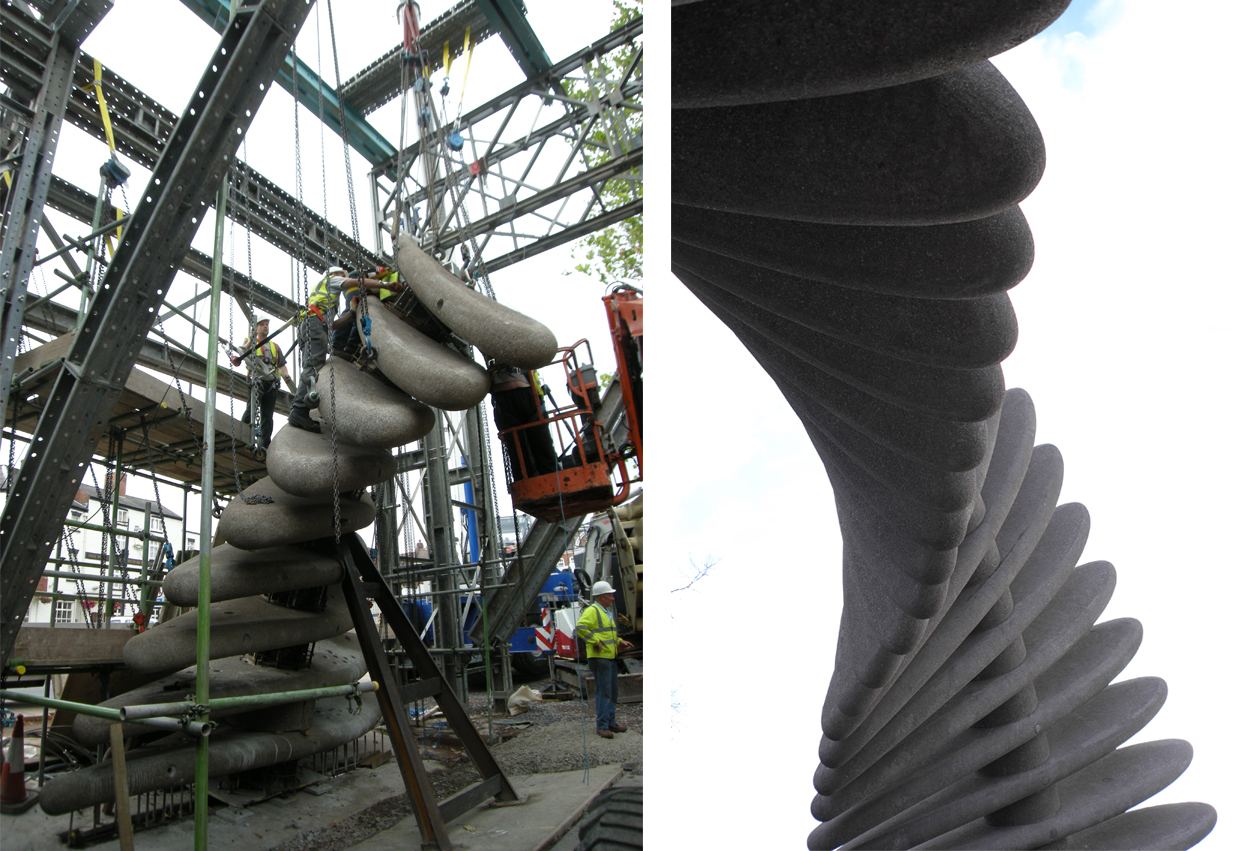 The Darwin Memorial Sculpture & Garden in Shrewsbury was to commemorate the bi-centenary of the birth of Charles Darwin. It includes the refurbishment of an existing garden along the Severn River and the Quantum Leap sculpture designed by Colin Pearce and Ranbir Lal with the arch spine structure and precast concrete ribs designed by Rodrigues Associates.

The complex structure of the giant sculpture is reminiscent of dinosaur bones, DNA strands and the human backbone, it also references the geology of the local Shropshire Hills and the arches of bridges found elsewhere on the Severn.

The structure consists of 31 precast concrete, elliptical and twisted ribs each weighing 3 tonnes. The individual ribs are spaced apart by wedge shaped, flanged steel tubes encased in concrete. This gives the arch its form and allows each rib to be rotated through at an angle of 5.625°. The design of the arch structure was made complex by having the support points at different levels. Just before construction began the position of the arch had to be moved to avoid a tree protection zone. Moving to the new location resulted in a considerable increase in local bending in the arch; this was avoided by introducing longitudinal reinforcement around the spacer tubes.

As the sculpture was located very near to the Severn River, and at a location of a considerable depth of alluvium, it was decided to build the structure on piled foundations. To limit the intrusion into the ground the pile caps were extended to support the temporary works, this negated the effect of load transfer from the temporary to permanent works. Longitudinal stability was easily achieved through the immense rigidity of the arch; lateral stability was provided by utilising the infill concrete at the base of the arch to provide moment continuity and lateral restraint.

View a video about Quantum Leap here.



The Team

Client: Shropshire County Council
Architect: Pearce & Lal Art & Architecture